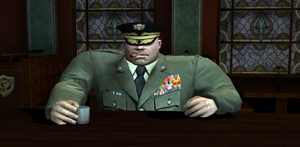 Whiskey (aka Whisky) is an alcoholic drink that is popular with many drinkers. There are different brands and varieties.
In 1958, Cate Archer (then going by the alias "The Fox") bribed a servant with a bottle of Glen Rothes Whiskey in order to gain entrance to the Cramble Castle.
Magnus Armstrong drinks whiskey on several occasions. When he lead a team of H.A.R.M. Paratroopers to kidnap Dr. Otto Schenker in a UNITY Airplane in the skys of West Germany. After they had made the capture, he instructed his men to make one more sweep of the airplane for Intelligence items and whiskey.
General Morgan Hawkins and contract killer John Jack also enjoyed whiskey. Jack prefers to not drink alone while at The Drunken Scotsman. General Hawkins had some whiskey in the O'Rourke's Pub in England.
Types of Whiskey
Edit
External link
Edit
Whiskey on Wikipedia
Community content is available under
CC-BY-SA
unless otherwise noted.