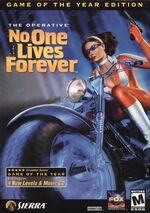 The Operative: No One Lives Forever
The following is a list of missions in The Operative: No One Lives Forever and is in accordance to the PC version. Normal storyline/gameplay missions are in bold. Cutscene/training missions are in normal font style.
Nine Years Ago
The PlayStation 2 (PS2) version of the game included an exclusive mission, Nine Years Ago..., which is not available on the PC or Macintosh releases and is also absent from the Game of the Year (GOTY) version of the game.
This mission is comprised of three flashback sequences in which the player controls a young Cate Archer in the days when she was making a living as an infamous cat burglar, referred to as "The Fox". This period of Archer's life takes place prior to her run-in with Bruno Lawrie and her subsequent recruitment into UNITY.
A video walkthrough of the exclusive mission is available for viewing on YouTube, courtesy of JohnnyDFox: Flashback #1, Flashback #2, and Flashback #3.
Community content is available under
CC-BY-SA
unless otherwise noted.