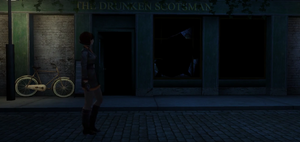 The Drunken Scotsman was a pub located somewhere in England. It also had flats (apartments) for rent upstairs.
In the public areas of The Drunken Scotsman, it resembles a typical English pub. Various bars and booths. Bulletin boards with various advertisements. Artwork of sailors, seascapes and medieval battles. Green and red was a common theme in the pub area. There was an entry way with a coat check and a Telephone.
Then non-public areas was various storage rooms for stock served at the pub. There is also a garage behind the facility.
In 1967 or 68, John Jack had rented one of the flats. This is where Louie Franco and the Franco Syndicate had captured Jack in an attempt to "retire him early." Jack escaped and fought his way out of the flats and pub areas. Before he left, he received a phone call from Dmitrij Volkov.
In 1968, Cate Archer had tracked down Magnus Armstrong, who was involved in a bar brawl. After Armstrong finished the brawl, Archer explained that she needed his help.
Menu items
Edit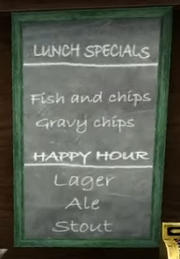 The following food items were served at The Drunken Scotsman.
There were two flats for rent upstairs. This also included a common bathroom, common living area and a common kitchen. This area was decorated in brighter colors than in the pub.
John Jack called renting the flat his first mistake. The second was not wanting to drink alone.
Community content is available under
CC-BY-SA
unless otherwise noted.