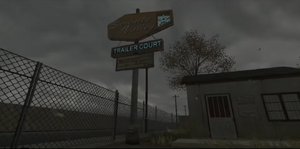 The Serenity Valley Trailer Court is a Mobile Home community located in Akron, Ohio. The company offered weekly and monthly rates, but also had no vacancy. Rent checks are made out to Johnny Joe according to a sign on the manager's office. Business hours are Monday-Friday 10:00am to 2:00pm, closed Saturday and Sunday.
Facilities
Edit
The manager's office is located at the front of the grounds near the road. It also contained a Fizzi Soda vending machine and attached laundry room. Various discarded debris, washers, dryers and cars were present on the grounds.
A total of eight locations are filled with various mobile homes (one of them being a camper that comes loose during the storm). There was also a new Mulkey brand double-wide mobile home on display at the trailer court.
A chain link fence is found in front of the road, with a wooden fence running around the perimeter. There is a section of the wooden fence that someone can slip through.
There appears to be a drive-in theater across the street from the trailer court.
Known Residents
Edit
Runnels - Had a mailbox at the trailer court
S. Lee - Had a mailbox at the trailer court
Mr. Hickey was attempting to purchase a mobile home at the Serenity Valley Trailer Court, however because of his recent bankruptcy, his loan had been denied by the First Bank of Stucky.
The trailer park was empty during the fight. The residents may have left due to the approaching storm.
Archer Arrives
Edit
In 1968, Cate Archer was attempting to escape with information on Project: Omega that she had recovered from the abandoned home of Melvin Blitzny. Isako and her clan of Ninjas confronted her and chased her into the Serenity Valley Trailer Court. Just as they had arrived, the bad weather turned into a full blown Tornado. Archer was able to fight off the ninjas and chased Isako into a newly modeled double-wide trailer home. Once inside, the tornado picked up the trailer with the two opponents still fighting inside.
External link
Edit
Trailer park on Wikipedia
Community content is available under
CC-BY-SA
unless otherwise noted.