Martha was Clark's wife and she wanted to go to Paris for their second honeymoon, but Clark decided to go to Morocco.  Martha has a friend named Abigail that she would correspond with.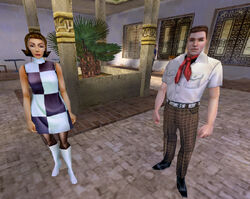 Cate meet Martha and Clark in Grand Caravan Hotel, Marrakesh, Morocco, where she save their lives, when H.A.R.M. agents went to kill everyone and blow up the hotel.
From the letters Cate found in their hotel room, she discovered that Clark is a Soviet spy and is going to leave Martha and go back to his first wife.
A few months Cate once again encountered Clark, who was now working with H.A.R.M. in a secret H.A.R.M. Underwater Base located in the Aegean Sea, which Cate infiltrated to save Magnus Armstrong. Clark was trying to kill Cate, but was unsuccessful and Cate kill him. After she search his body, she found a letter addressed to Martha.
Martha's mother had forwarded Clark's letter of regret to her in Morocco. Martha responded stating that she had wandered the desert after being devastated by the truth of Clark's identity. She had wandered in the Sahara Desert for weeks filled with grief. On the verge of starvation, she had been found by some Berber nomads near Merzouga. There Martha discovered that the Sahara desert was a much better companion than Clark had ever been.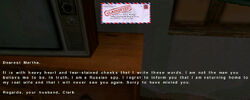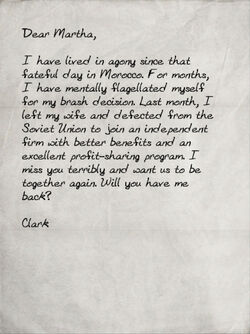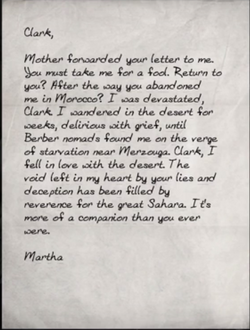 Community content is available under
CC-BY-SA
unless otherwise noted.