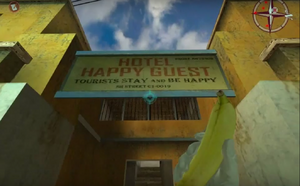 The Hotel Happy Guest is a business located at SR Street C1-0019 in Calcutta, India. The Telephone number for the hotel is 8675309. The slogan for the hotel is "Tourists stay and be happy."
Balaji Malpani had a room on the second floor at the Hotel Happy Guest. His room was furnished with a couch telephone, sink, safe, and a bed. Both Cate Archer and the UNITY Intercept Team had to pick the lock in order to gain access to the room.
It is not known if the other rooms were similarly set up.
In 1968, members of the UNITY Intercept Team were sent to Calcutta to photograph Malpani at his apartment at the Hotel Happy Guest. When they arrived they found a note from Phoolwati, Malpani's girlfriend, inviting him to dinner that night.
Pierre the Mime King murdered Archer's contact behind the Hotel Happy Guest. Rumors of the murder spread through out the city, some of them very unsubstantiated.
The player can hear these rumors if they talk with various Civilians in Calcutta.
When Archer arrived in Calcutta, Kamal Khubchandani provided her with a Telephone Bug that she could use to bug his apartment in hopes to find out the daily password to get into the H.A.R.M. India Headquarters.
When Archer returns to Calcutta to help repel H.A.R.M.'s Super Soldiers, she passes by the Hotel Happy Guest.
The telephone number for the Hotel Happy Guest, 8675309, is taken from the 1981 pop song by the band Tommy Tutone called 867-5309/Jenny.
Community content is available under
CC-BY-SA
unless otherwise noted.