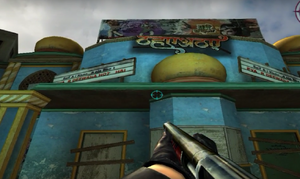 The Evil Alliance Headquarters for the India branch of Evil Alliance is located in an old movie theater in Calcutta. Some of the Civilians in the area were upset that Evil Alliance had taken over the theater as they liked the comfortable seats.
The lobby contained a Vending Machine near the snack bar. Movie posters could be seen for Hamster of Fury and the Jade Hamster. Several restrooms, theater seating and the main theater stage (complete with trap door). There was also an upper balcony with two side box seats and a third floor containing the manager's office and the film projection room. Behind the stage was storage for sets as well as stairs into the basement. The basement contained dressing rooms, storage rooms and the furnace. A secret film vault was found under the main theater seating area (accessible by a hidden switch on one of the theater chairs).
When Cate Archer was attempting to infiltrate the H.A.R.M. India Branch, she offered to bring Anoop Banerjee the contents of Evil Alliance's safe and wreck their operations. To do this, she needed to infiltrate the local Evil Alliance Headquarters. Archer had to use a Hairspray Welder to get past the Lock on the side gate and enter the building from the stage door.
Once inside she discovered some Explosives and a letter (found at a random location) from Sonal to Madhu advising that they be stored in the secret film vault. Later Archer located a missing blue envelope containing the combination to the safe in the managers office. Within the safe was information on Evil Alliance's next operation against H.A.R.M. Before leaving the facility, she set various explosives at key points to destroy the building.
Evil Alliance Thugs can be incapacitated by the trap door or dropping bags of sand on them (if the timing is right).
This map was also used in the multiplayer game with several alterations.
Despite Archer setting explosives, the building is still standing when she returns to Calcutta to stop the Super Soldiers.
Community content is available under
CC-BY-SA
unless otherwise noted.