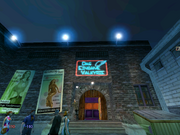 "This place... imagine that bad music is its own art form. The woman who was singing would be the Beethoven of bad music."
Das Einsame Valkyrie was a popular Beatnik nightclub located in Hamburg, West Germany. It could take up to two hours to get into the club. It was owned and operated by Inge Wagner who often performs there.
The interior decoration heavily relied on the colors of purple and orange. There is an aquarium display in the club that featured several types of exotic fishes and a Shark. There was also a stage for performances and kitchen facilities. Uncle Friedrich's Bacon Soup was one of the dishes served at the club.
Music was the primary reason the club was popular. Besides performance by Inge Wagner and the Valkyries there were posters advertising performances by Fraulein Inga Vandervoort (scheduled to perform from September 18-21, 1967) and Frau Gefahrliche.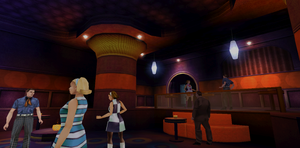 The club has a staff of several bouncers who protect the premises. Due to the popularity of the club, it tends to fill up to capacity every night and the bouncers have to strictly enforce the capacity limits. There was a series of Security Cameras set up to assist with security. Arno Kirchner sent out a memo to all club employees that sleeping on duty was not permitted.
Inga Wagner disliked the Beatniks that came to her club. She tried getting rid of them but they kept returning.
After Cate Archer met with Tom Goodman, she discovered that the club was being used by H.A.R.M. as a supply facility. The club supplied the organization with the finest Deutsch brews.
Magnus Armstrong sarcastically offered to nail up a commemorative plaque in the ladies room of the club to show her dedication to H.A.R.M.
Issues with the city of Hamburg
[
edit
|
edit source
]
Hamburg fire code limited the number of patrons to 2 persons for ever 20 feet within the club. Commissioner Stempel had to remind Inge Wagner of this code.
The club had also been cited three times for dumping beer into the canal behind the building.
Community content is available under
CC-BY-SA
unless otherwise noted.