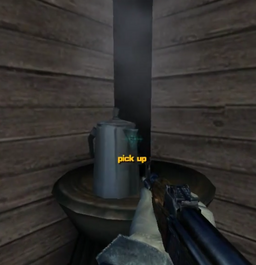 Coffee is a hot caffeinated beverage that is found worldwide. Many different restaurants and eateries had coffee advertised at their establishments.
When Mischa "kept himself warm" by drinking Vodka in the Soviet Union, Cate Archer had to sober him up with some Coffee. There was a pot of it in the Cabin in Siberia.
Pupkov Laboratory conducted an experiment known as Project Eyes Wide Open. In it, one of groups was required to consume nine cups of Coffee a day and smoke 18 Cigarettes. To assist with this experiment, members of the Soviet Army were instructed not to dispose of their Coffee.
Coffee on Wikipedia
Community content is available under
CC-BY-SA
unless otherwise noted.