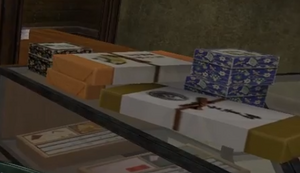 Chocolate is a sweet food item created from cocoa beans and usually eaten as a snack or desert. Shops have been set up to sell chocolate sweets to customers.
While infiltrating the Dumas Towers in England, Cate Archer found an invoice from Harrods for 4lbs of Chocolate, 16 cashmere Sweaters, 8 Pucci pant suits and 2 ladies Hats. These items were purchased by the Baroness Felicity Dumas.
In 1968, Archer was attempting to photograph a criminal convention being held in Inotakimura, Japan. She overheard two Ninjas talking about how to calm down one of the Ninja's angry mother. The other suggested purchasing Chocolates. There was a sweet shop selling Chocolates in town. This shop was being used by Isamu Hatori.
External link
Edit
Chocolate on Wikipedia
Community content is available under
CC-BY-SA
unless otherwise noted.