"Ah, yes, my husband. He's a child in the body of a man. A rather large man." -Baroness Dumas, The Indomitable Cate Archer, Scene 2
Baron Archibald Dumas is married to Baroness Dumas and inherited a huge company from his late father around 1957. He is a great fan of hunting and has a huge ego. He thinks he is talented in every way possible and he considers himself to be very smart. During the interview in A Man of Influence, Cate finds out none of this is true though.
According to the papers that Archer had read, Baron Dumas was a reclusive chap who spends much of his time hunting big game in Africa and Southeast Asia. He inherited the company from his father about ten years ago.
When he is not hunting, Baron Dumas has a well defined schedule. Mondays are reserved for golf. Tuesdays and Thursdays are reserved for skeet shooting. Wednesdays for fishing and Friday afternoons for backgammon. Friday mornings between 11:00 and 11:15 are reserved for business matters.
Appearance
Edit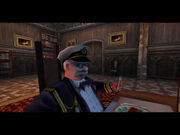 The Baron is a fat, old man with a grey mustache and a monocle. He is only visible in the game on two occasions. The first time he wears a hunting outfit, the second time he has a Navy Uniform, indicating he has served in the Navy during World War II or that he simply bought the uniform like he did with his hunting collection. The uniform he wears is one of a high-ranking officer.
Hunted Animals
Edit
The following is a list of animals hunted (or claimed to have hunted) by Baron Dumas.